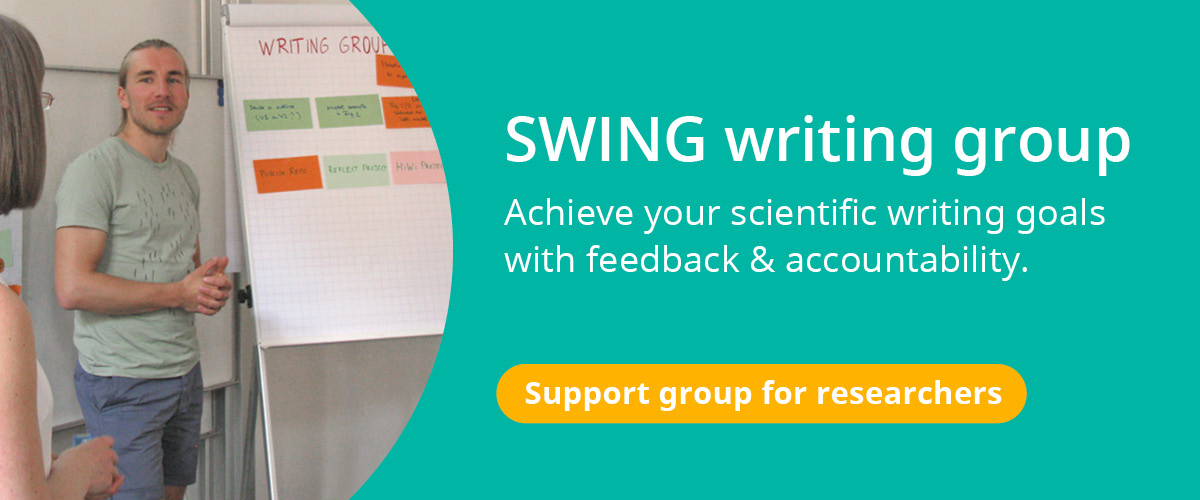 Registration opens 2-3 times per year. If you would like to join, send an email to swing@writingscientist.com.
Would you like to stay on track with your writing goals? And refine your scientific writing skills?
Scientific writing can be a lonely business. You are supposed to write on your thesis or finally write up that manuscript. But it can be hard to stay motivated.
There are so many other things competing for your attention: you are participating in several research projects, have some administrative or teaching obligations, and maybe even another job to pay the bills.
Among experiments and analyses, emails and seminars, it's easy to forget about your writing, to postpone it for later.
Except: without scientific writing, your research doesn't matter.
When you write in short hectic bursts, with a looming deadline, your writing quality suffers as you lack regular practice. And it's stressful, you are literally hurting instead of enjoying the process of giving your work the final shape.
If only you could get yourself to follow through on your goals and plans.
If only you could write consistently and stay engaged with your writing projects.
Introducing: SWING scientific writing group
It's much easier — and nicer! — to work on your writing goals and your writing skills in a supporting group of peers.
SWING writing group provides motivation, accountability, support and feedback through:
✅ sharing the struggles and successes

✅ getting a fresh perspective on your issues

✅ planning and reflecting on your writing goals

✅ getting feedback on your texts

✅ practicing writing skills by helping others fix their texts

✅ finding an accountability partner for regular exchange outside the group meetings
SWING writing group offers a perfect combination of motivation, writing skills training and feedback. Sharing and discussing my own texts with both an expert and a group of peer scientists has helped me immensely to improve my writing skills and style. Moreover, Martina's enthusiasm and cordiality create a very welcoming and producitve atmosphere and make me enjoy the sessions a lot.
It doesn't require much time to participate in and fully benefit from the SWING writing group.
Two hours per month are sufficient to make a huge difference: in your mental well-being and your motivation, as well the quality and quantity of your writing!
Until now, the SWING writing group format has been reserved for institutions who wanted to support their researchers with their writing.
Now for the first time a SWING writing group is opening for any researcher to join!
Especially recommended for PhD students at any stage (especially at the end ;)) and PostDocs who need to write a lot to create an edge.
The monthly goal-setting was very useful. It helped me to stay on track with my thesis.
SWING schedule & dates
SWING meetings take place monthly on Wednesdays 4–6 PM Central European (Summer) Time, UTC+2.
Dates for 2022: Feb 16, Mar 30, Apr 27, May 25, Jun 29, Jul 27, Aug 31, Sept 28, Oct 26, Nov 30, Dec 28.
Meeting schedule:
[30min] Goal setting & evaluation
[30min] Q&A
[60min] Peer feedback
What you get
For the price of 289€ per year or 12 monthly payments of 25€, you get access to
⭐ 12+2 monthly SWING meetings

⭐ course area where you can pose questions and watch recordings of Q&A sessions

⭐ possibility to find an accountability partner

⭐ closed FB group for further exchange and support

⭐ BONUS videos

✨ effective peer feedback

✨ overcoming procrastination & writer's block

✨ elements of writing productivity
Partner discount
It's especially effective to join the SWING writing group with one or two colleagues or friends. Someone who already knows you is a perfect accountability partner for providing social pressure for your goals and an understanding ear for your struggles.
The special partner discount is meant to encourage you to join the SWING writing group with one or two another persons:
⭐ 2-person discount: yearly fee of 264€ instead of 289€ per person (25€ off)

⭐ 3-person discount: yearly fee of 259€ instead of 289€ per person (30€ off)
To receive the partner discount, email the names of all two or three partners to swing@writingscientist.com.
Write your science like a PRO
Booking the SWING writing group entitles you to additionally book the online materials from the course Scientific Writing Pro for 199€ or 12x 17€/month.
Develop your scientific writing skills with short (10-25 minutes long) video lessons organized in four modules:
Module 1: Writing process & productivity
Optimize your writing process to write smoothly and without suffering and improve your writing productivity for higher writing output.
Module 2: Writing research articles
Learn to structure research articles for great readability & impact.
Module 3: Paragraph & sentence structure. Scientific language & style
Learn to write well-structured, clear, and concise scientific texts.
Module 4: Scientific publishing
Learn the know-how of effective scientific publishing.
I am always happy about the exchange in the SWING group! Especially the peer feedback on our own texts that are discussed in the group is very helpful. But also the general exchange about the approach to writing scientific texts is worth its weight in gold! Thank you Martina!
Meet your trainer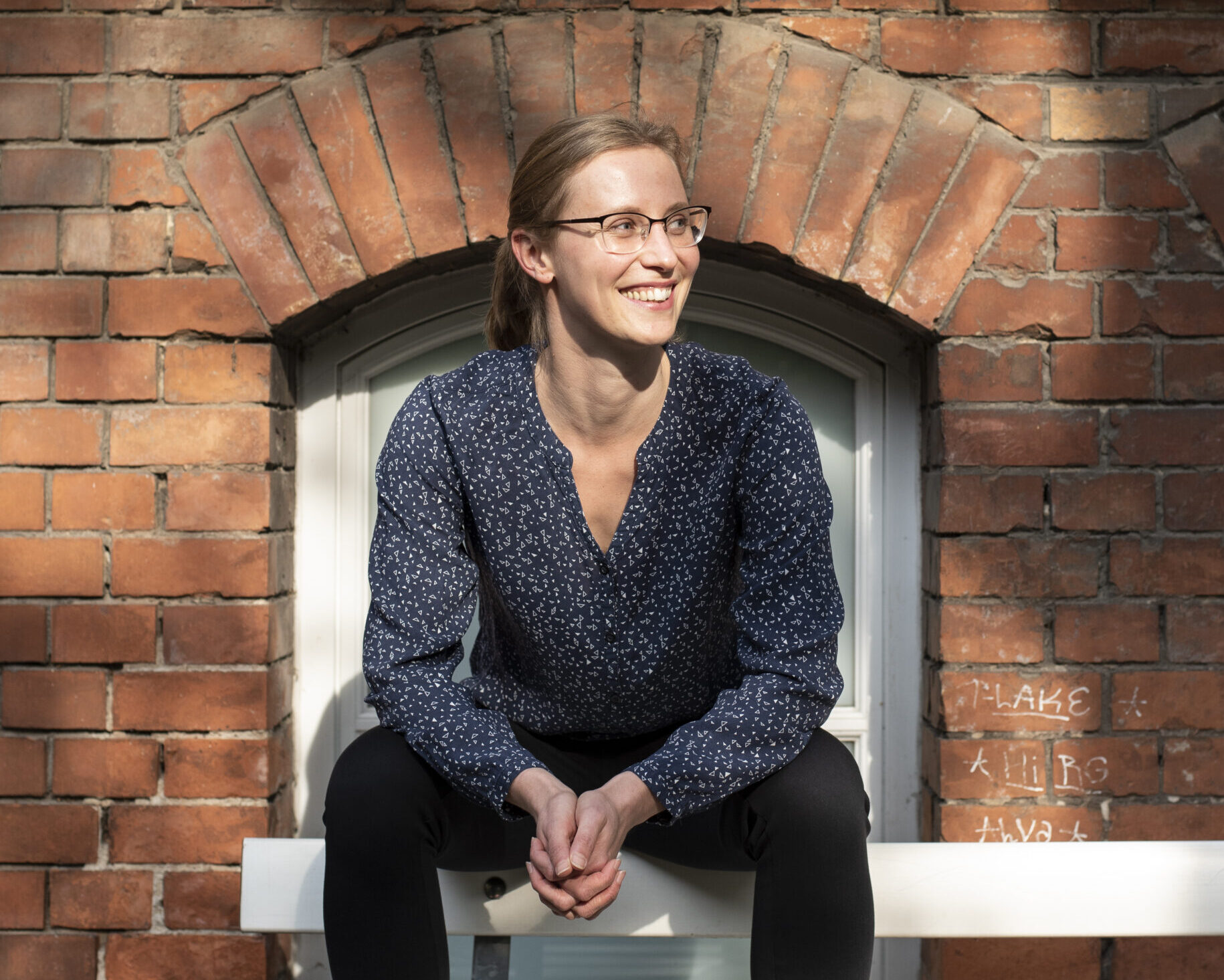 Dr. Martina Michalikova is a biologist and computational neuroscientist who obtained her doctoral title in 2016 from the Humboldt-Universität zu Berlin, Germany.
During her PostDoc period she has acquired further qualification as a writing consultant specializing in scientific writing in English as a second language.
Since 2017, she has been working as a freelance trainer in scientific writing & publishing, giving workshops, leading writing groups, and providing individual writing support as a coach & consultant.

Frequently asked questions
Coming soon
Please, send your questions to swing@writingscientist.com