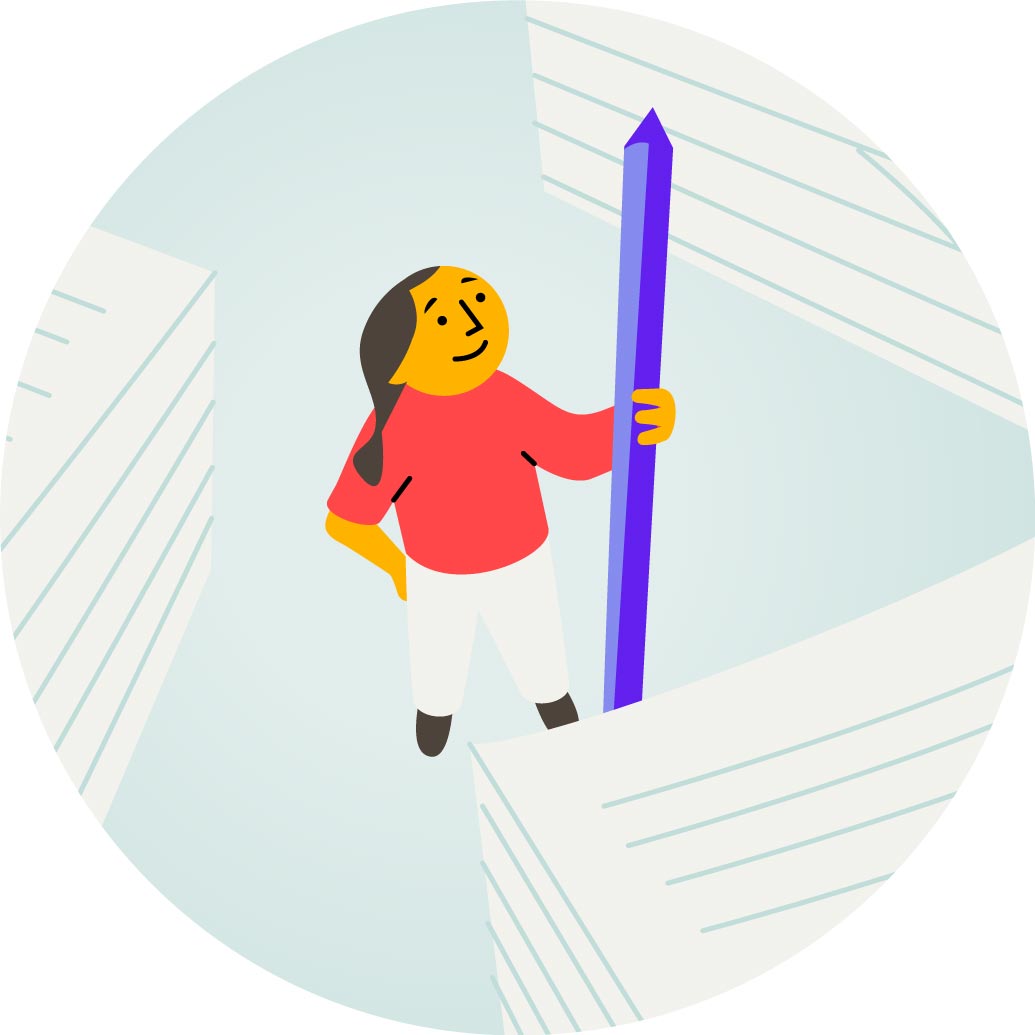 As a scientist, you need to publish your research in papers. A lot of papers. But chances are you struggle to find the time and focus needed for writing your papers. Good news: this whole process can be made much easier when you don't wait with writing until you need to put together a manuscript. Taking regular small steps will help you achieve big results with ease.
From small steps to big results
My favorite writer Dushka Zapata once said:
Big steps are how people become overwhelmed. Small steps are how things get done.
Indeed, regularly taking small steps is how big results are achieved. And her writing is a great example of what this means.
I discovered Dushka on Quora, where she answers questions about human psychology and relationships. Almost every day she publishes 2-4 answers. These are her small steps.
Then, every six months, she assembles a selection of her answers into a book. These are her big results.
She has joined Quora in 2015 and in six years has (self-)published 12 books and one e-manual on how to write a book.
So her process from small steps to big results is:
writing a couple of answers on Quora every day → assembling a book every six months
Inspired by Dushka, I implemented my own version of this method:
Quora answers → Newsletters → blog posts → book
A couple of years ago, when I was starting with Writing Scientist, I wrote almost daily on Quora. These texts were the basis for my Newsletters and blog posts.
It worked really well: it is much easier to answer a concrete question than to write a full blogpost on a meaningful topic.
Now I am going to revive this habit of regular writing on Quora. As a result, there will be more blogposts and, yes, all of this will culminate in a book 🙂
From daily notes to publications
Now you might ask yourself how you can use this system for your scientific writing.
Here is the process I used in the late phase of my PhD:
daily notes in lab book / research journal →weekly reports →manuscript / thesis
This helped me think clearly, progress with my research fast — and write up my manuscripts and thesis quickly and painlessly.
Let's break it down:
1. Daily notes in your lab book / research journal
Starting to take daily notes about my research was truly a game changer in my PhD. It improved everything: quality of my writing, clarity of my thinking, a sense of progress with my research.
Daily notes about your research are ideal "small steps" because this writing (unlike Quora answers) stays private: you don't need to care about polish, it's all about substance.
Write daily about what you do, read and think about your research. Include description of the methods you (are going to) use, paste your results and your thoughts about them. Speculate about open questions, sketch out implications, try to understand the failed attempts and plan out next steps. You can also include your TODO lists if you want.
I recommend an electronic format because it is searchable and allows you to easily incorporate images (your graphs, figures from publications..). Don't overthink it, at least at the beginning: a simple Word file, organized chronologically, will suffice. Start a new file every month and use headings to construct a table of contents for an overview.
However, if your work includes a lot of math and analytic calculations, a paper notebook might be more suitable. Numbered pages and a table of contents will help help you navigate your notes.
If you work mainly at the computer, you can keep your lab book open the whole day and write there whenever you have something new — or need to sort out your mind. If you work experimentally away from your desk, then you might create a regular routine where you, for example, quickly jot down some notes before lunch and then again before you leave home in the evening.
Writing daily in your lab book/research journal will greatly help you with developing your projects and ideas and finding solutions to problems and dead ends. It also generates detailed documentation of your work and, importantly, helps you find the right words to describe your research. As a bonus, it creates a feeling of daily progress, which is especially important in times when you feel stuck.
Due to these ample — and pretty immediate — benefits, the practice of daily note taking is usually not hard to sustain. For sure, you need to first establish it, making it your focus for a couple of weeks, but then you won't want to miss it 🙂
2. Weekly reports
The next level is to regularly take a step back, look through the daily notes and get an overview of your work. During my PhD, I reserved 1-2 hours each Friday afternoon for inspecting the big picture. This resulted in a couple of pages of selected graphs and notes that I would take to my weekly meetings with my supervisor. Sometimes I also wrote summarizing paragraphs, describing and explaining my work.
I recommend to do these weekly reports even if no one else is going to see them. As one researcher put it in her inspiring story:
[The weekly reports] helped me collect the small stones I ultimately used to construct the stairs to my Ph.D.
On a side note: this researcher noted that she was struggling with her weekly reports. I think that's because she seems to have skipped step 1, the daily research notes.
3. Manuscript / thesis
And finally, the big results: writing daily about my research and stepping back weekly to construct the big picture enabled me to write up my manuscripts and the PhD thesis pretty quickly and painlessly.
Often we think that we struggle with writing while we, in fact, struggle to put our thoughts straight. Other times, we struggle because we are blocked: we don't know how to start, how to let go of our expectations and get into the writing flow. Or we doubt our writing skills, feeling appalled by the quality of our writing.
Daily research notes and weekly reports will help you with all of these issues. Day by day, week by week, you will be developing your ideas, refining your writing style and nurturing a writing habit.
And when the time comes to write up a manuscript, you will be able to write it up quickly, in a week or two. I loved this quick write-up: it's super effective and motivating! If you would like to get support and guidance through the whole process, join us for the Write Up Your Paper online course.
If you are working on a bigger piece, like a PhD thesis, you could implement the 1-hour workday where you write daily for 1-3 hours first thing in the morning (or at another time that is optimal or simply possible for you) and spend the rest of the day with other (research) activities. Also here you can get support, through the SWING writing group.
Should you still get blocked (because now you are writing something that actually matters), I recommend to simply switch back to your lab book/research journal and continue there. You can write down your thoughts in bullet points, to see them clearly in front of you so you can sort them out. More often than not, what you then write in your lab book will be good enough to transfer back to your manuscript document 🙂
Turn your flow into stock
Regular writing and thinking about your research is the secret to easy and productive scientific writing. These are the small steps that lead to great results. It worked like a charm for me, and so it is working for the students in my courses.
The author Austin Kleon calls it "turn your flow into stock". That's a precise description: you need to be consistent with the small steps, creating a kind of routine or flow.
Ideally you don't perceive any part of this process as a burden. If you do it right, you will clearly feel the benefits of daily notes and weekly reports, even before you need to sit down and write up a manuscript or thesis.
Have you developed a similar (or different) process that makes your scientific writing easier? Please, share it with us in the comments!